Lymfactin® - In development for secondary lymphedema
Lymfactin® aims to become the first drug for the treatment of secondary lymphedema
Lymfactin® is presently being developed for patients who have been diagnosed with breast cancer-related lymphedema.
About Lymfactin®
Lymfactin® is derived from the scientific discovery of Vascular Endothelial Growth Factor C (VEGF-C), the natural human protein necessary for the growth of new lymphatic vessels. It is a gene therapy product, which delivers the human gene coding for VEGF-C and thereby promotes the formation of new lymphatic vessels. Lymfactin® is administered locally at the damaged site of the lymphatic system with the aim of repairing those injuries. In disease models, this local VEGF-C expression, which lasts for about two weeks, has resulted in the formation of new lymphatic vessels. This may eventually normalize the lymphatic flow and thereby stop the accumulation of the lymph in the patient's tissue. If Lymfactin® works in human patients with the same success as it has worked in disease models, it can lead to a significant breakthrough in the treatment of secondary lymphedema. VEGF-C was discovered by Professor Kari Alitalo and his research group at the University of Helsinki.
Lymfactin® Mode-of-Action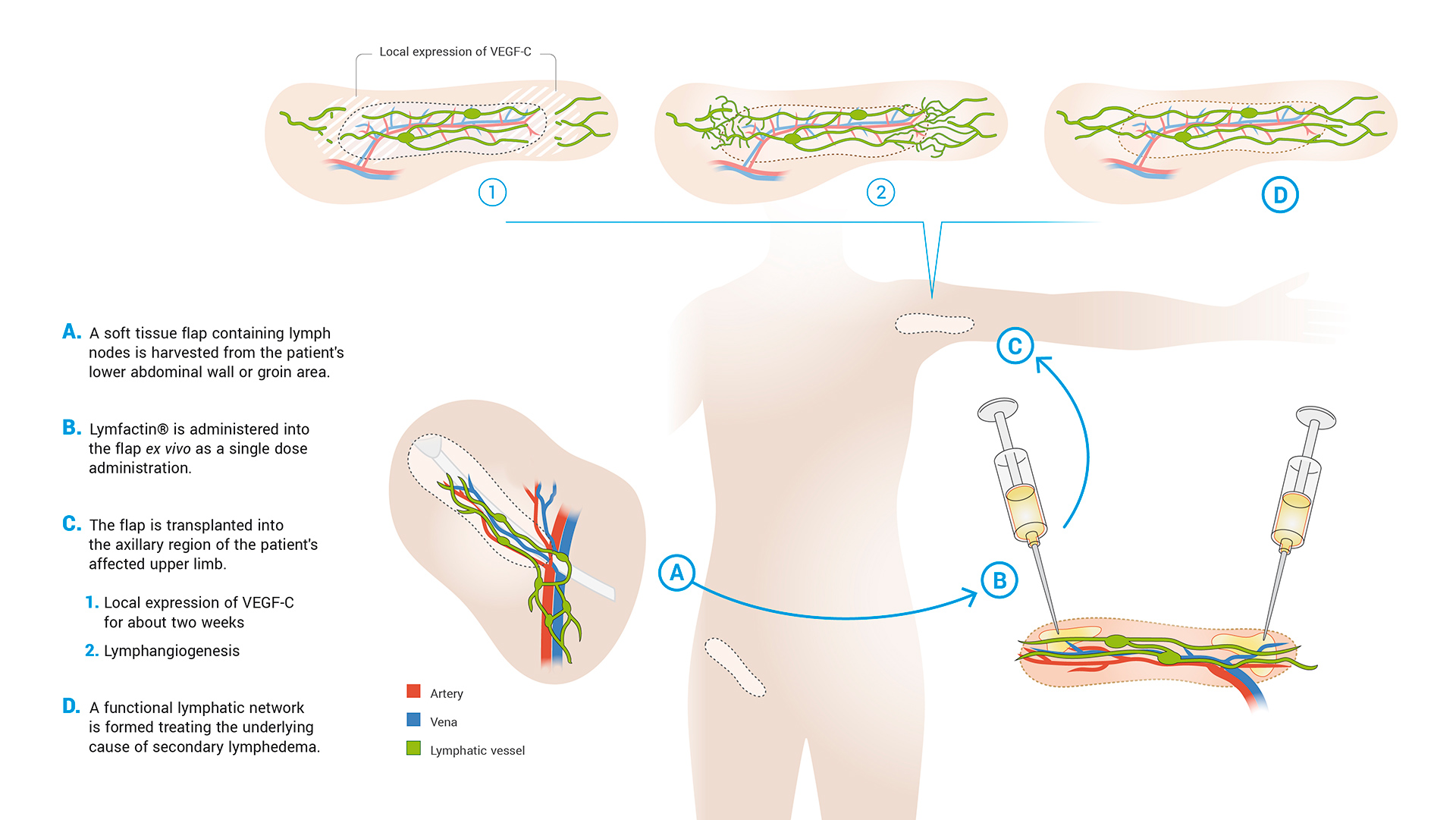 Lymfactin® Clinical Development Status
Lymfactin® is currently being developed for the treatment of breast cancer-related lymphedema (BCRL) in patients who undergo lymph node transplantation surgery with or without breast reconstruction. Lymfactin® has been studied in Phase 1 and Phase 2 clinical studies. Both clinical studies are currently in a long-term follow-up and patient recruitment has been completed.
The Phase 1 clinical study is a multi-center, open-label study to assess safety and tolerability of Lymfactin®. The Phase 1 study recruited 15 patients from which three patients received a lower and 12 patients a higher dose of Lymfactin®. Both doses were safe and well tolerated based on the two-year follow-up data. The higher dose was selected for the Phase 2 clinical study. The Phase 1 study continues with a long-term follow-up on all patients. The 12 months safety data of the Phase 1 study has been published in a peer-reviewed scientific article in the September 2020 issue of Journal of Plastic, Reconstructive & Aesthetic Surgery. The entire publication can be read from here.
In the higher dose group, approximately half of the patients had clinically relevant decrease in the volume of the affected arm at 12 months, which maintained through 24 months.  Patients have similarly reported improved quality of life using the LyQLI questionnaire (Lymphedema Quality of Life Inventory) at 12 months and at 24 months post treatment.  In addition, the lymphatic flow was assessed using lymphoscintigraphy, which suggested some patients showed clinically meaningful improvement in the lymphatic flow at 12 months which increased further at 24 months. Since there was no control group in the study it is not possible to draw any conclusions on the efficacy of Lymfactin®.
The Phase 2 clinical study "AdeLE" is a multi-center, randomized, double-blind, placebo-controlled study to assess the efficacy, safety, and tolerability of Lymfactin®. The Phase 2 study recruited 39 patients in which half of the patients received one dose of Lymfactin® and the other half received a placebo solution in combination with the lymph node transplantation surgery. The efficacy endpoints include the volume measurement of the affected vs. non-affected limb prior and after the treatment, lymphoscintigraphy prior vs. after the treatment for assessing the functionality of the lymphatic system, and the assessment of quality of life. The study continues with a follow-up on all patients and the 12-month results are expected in Q1/2021.
More information about the Phase 2 clinical study can be found at www.lymfactin.fi/en.
About Secondary Lymphedema
Secondary lymphedema is caused by local injuries of the lymphatic system, which can manifest as a result of cancer treatments such as surgery and radiotherapy. The injuries of the lymphatic system may disrupt the normal flow of lymph, which will then start to accumulate in tissue, for instance in a limb. This results in chronic, progressive swelling.
Secondary lymphedema is a painful, deforming disease that often has a significant impact on the quality of life of the patients. Symptoms of secondary lymphedema include progressive swelling of the affected limb, pain, decreased mobility, and increased forming of connective tissue. Many patients also suffer from repeated infections of the affected tissue. Patients are often ashamed of their deformed appearance and may fail to seek appropriate treatment.
According to the global patient organization for lymphatic diseases, LE&RN, misdiagnosis is common. Patients or even their treating physicians may not know that they are suffering from a disease.
A curative treatment for lymphedema is not currently known. Depending on the case, the symptoms of lymphedema can be alleviated by physiotherapy or massage. Many patients who have lymphedema of the arm wear a compression garment. These kinds of treatments may relieve the symptoms but do not repair injuries of the lymphatic system, which causes the disease. Surgical procedures such as liposuction, lymph node transplantation, lymphaticovenous anastomosis, and lymphaticolymphatic bypass are also used but these surgical treatments rarely eliminate the need for compression therapy.
Based on published cancer incident data we estimate that about 30,000 breast cancer-related lymphedema cases are diagnosed annually in the USA. Secondary lymphedema is also associated with other cancers including melanoma, gynaecologic cancers, and genitourinary cancers resulting in estimated 150,000 secondary lymphedema cases in the USA. In the USA it has been estimated that the treatment of breast cancer-related lymphedema costs over 10,000 USD per patient a year.
White papers
Selected publications
Hartiala P, Suominen S, Suominen E, Kaartinen I, Kiiski J, Viitanen T, Alitalo K, Saarikko AM. Phase 1 LymfactinⓇ Study: Short-term Safety of Combined Adenoviral VEGF-C and Lymph Node Transfer Treatment for Upper Extremity Lymphedema. J. Plast. Reconstr. Aesthet. Surg. 73(9): 1612–1621, 2020
Tervala TV, Hartiala P, Tammela T, Visuri MT, Ylä-Herttuala S, Alitalo K, Saarikko AM. Growth factor therapy and lymph node graft for lymphedema. J. Surg. Res. 196(1): 200-7, 2015.
Lähteenvuo M, Honkonen K, Tervala T, Tammela T, Suominen E, Lähteenvuo J, Kholová I, Alitalo K, Ylä-Herttuala S, Saaristo A. Growth factor therapy and autologous lymph node transfer in lymphedema. Circulation 123: 613-20, 2011.